Microfinance refers to small loans and other services provided by "microfinance institutions" to individuals and small businesses who are unable to get traditional loans. This could be for any number of reasons. It may be because they don't have a credit record. Or they may not have a relationship with any bank. Or they simply may not know how to go about getting a reasonable loan.
During the 1970's and 1980's the international microfinance movement took off in developing countries. We're happy to report that over the past decade there has also been a rise in microfinance activity right here in the United States.
Loans and other services are now available from a number of microfinance institutions in North America, including the United States and Mexico. Even Federal Reserve Chairman Ben Bernanke praised the microfinance movement and momentum in the United States when he spoke at a Microfinance Summit sponsored by Accion Texas in 2007.
Bernanke especially praised the organization Accion International which, since it started a U. S. operation in 1991, has loaned approximately $180 million to 20,000 borrowers in this country. He highlighted the fact that in the United States, would-be entrepreneurs also receive considerable education and training to help them with the more complex business environment that exists in the United States.
Search Topics
Discover your program today!
Update July 2019
Though microfinancing has been quite effective in developing countries, many people were very skeptical — and even critical — of the idea that it could also help to lift people out of poverty in the U.S. However, with more experience and results to review, the verdict is in. There is new evidence from a legit research firm that supports the view that it can indeed be wonderfully effective in the United States. That's especially good news for the millions living in poverty, especially those which are headed by single women. So if you are interested in improving your financial situation but you don't have a lot of business expertise, check out the microfinancing opportunities outlined here — it can change your life!
According to the Federal Deposit Insurance Corp, as of early 2015 there are over 9.6 million households in the U.S. who do not use a bank and have no banking relationship. MFI's (Microfinance Institutions) give them the option of an alternative lender for small amounts banks would not even look at. Some criticize MFI's because loan rates tend to be high. But their criticism ignores the fact that micro-lending is a very people intensive and therefore labor intensive business. Consequently the business model is an expensive one. Critics also tend to assume that high rates mean some sort of extortionary treatment. But if the price is lower than the borrower's alternative, and if the lender can make some profit from it (and stay in business), then it seems a beneficial approach.
An encouraging development has been the emergence of non-profit organizations which provide a platform for "regular people" to make donations which are then pooled to support microfinancing activity. Through these organizations, ordinary folks can make the choice to support an entrepreneur and to encourage and help low-income individuals who are striving to lift themselves up by working hard and pursuing a dream.
As microfinancing gains recognition and respect new organizations are coming on the scene. These include ACE, which stands for Access to Capital for Entrepreneurs in Georgia; the Business Center for New Americans, helping refugees and immigrants in New York to build a new life; and Kiva Zip, which is operating in Kenya as well as in the United States. Don't assume that this is a complete list — it's worth your while to do a local internet search for microlending organizations in your city, county and state.
Microfinance is a win-win-win because it helps people start a business and become successful at it, it allows others to make a contribution by supporting those people, and it ultimately helps the economy not only through the support of new businesses but also by the creation of jobs over time. Read on to learn more about how microfinance works and what it could mean to you.
Different microfinance institutions use different models to explain and conduct their business. Basically, a person with a good idea but little or no access to formal banking services approaches a local microfinance institution to secure a loan. Some institutions provide counseling, advice and support in addition to the loan, and each has its own requirements regarding the timing and method of paying back the loan. Each institution's requirements will differ with regard to eligibility and what sort of collateral, if any, is required of the borrower.
Some U.S. micro lenders like Grameen operate based on the technique commonly used in places like Bangladesh. They create groups of entrepreneurs/borrowers who work together as a unit. They approve any loans to members and they make weekly payments with an interest of 15% — which compares quite favorably to lenders of things like payday loans. And here's a real motivator: if everyone in the group repays their loan on time they then can qualify for a larger loan of money during the next loan cycle. It's a pretty interesting and compelling model. Those receiving loans also get savings accounts andideally save at least $2 each week. That may not sound like much but it's a great way to learn the discipline and the value of saving.
It might surprise you to learn that micro-lending interest rates will likely be higher than a bank's (though typically not as high as something like a payday loan). One of the primary reason for that is that micro lending is very labor intensive. So their costs are considerably higher than a bank's. And, fortunately, they don't make extra money like payday loan makers which have numerous penalties and make you pay interest on interest and worse. And despite the higher interest micro-lending is growing impressively. In fact one of the largest lenders is soliciting banking partners and social impact investors to help them increase their growth dramatically. This can be especially good news for women, who are a primary target of major micro-lenders. For example, Grameen America aims to raise an additional $16 million in lending funds in 2018 to loan to low income women entrepreneurs in areas of the U.S. considered underserved.
Update April 2017 For example, Accion is very active worldwide supporting entrepreneurs. But Acccion U.S also has a network of lenders in the U.S. And they have loaned money to more than 50,000 people in the United States since 1991. They make it very easy to apply for a loan and they provide tips for making your application a strong one. They support you every step of the way and make loans as small as $300 and as big as $1 million. You get one-on-one counseling and training in business strategy, marketing, financial management and more.
Even PayPal has gotten in on micro-lending. through their "Working Capital" program they have loaned over $200 million to 20,000 small businesses in the United States. Most companies use the loans to buy inventory, especially before busy seasons like holidays. The program doesn't target brand new businesses though — they make loans of up to 8% of a company's annual sales. Still, if you you've already started your business this is a great way to get a working capital loan without going to a bank.
Recently the Wall Street Journal called attention in an article to the growing gap between how many men and women open new businesses. They found that less than 37% of new businesses were opened by women in 2014. Part of the reason is they have more difficulty raising capital for their venture. Microfinancing institutions see this situation as an opportunity to help women in the U.S. to get access to affordable credit and other financial services needed by businesses. And Grameen America announced its intention to invest fifty million dollars in women-owned businesses specifically in Harlem. This is pretty exciting news and potentially a great time for women to investigate microfinancing opportunities for their business - or the one they're dreaming about!
Want some great inspiration? Interested in a better understanding of how people use microloans to better their lives: the kinds of businesses they start or grow, where they're located in the U.S., what ideas they've had to get their business off the ground, and lots more? Just take a look at Kiva US and see photos and stories of current campaigns. You'll see a wide array of entrepreneurs – men, women, young, old, different races, different areas of the country. You can see what they plan to do with their loan, how it will impact their business, how much has been committed so far and how much more they need to get their loan. It's fascinating reading and might spark more than a few ideas for your venture!
To identify and learn more about microfinance institutions in the United States, see our page on Microfinancing Opportunities.
Learn More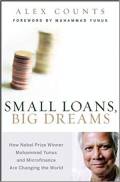 Whether you are seeking a loan or are simply intrigued by the concept and potential of microfinance, you will enjoy an excellent book called Small Loans, Big Dreams: How Nobel Prize Winner Muhammad Yunus and Microfinance are Changing the World by Alex Counts. Counts is an expert: he is the President and CEO of Grameen Foundation, a nonprofit, Washington, D.C.-based organization with 52 microfinance partners in 22 countries. The book receives high ratings from readers and includes not only information about microfinance but also stories of Grameen's founder and its beneficiaries in the U.S. as well as elsewhere. According tot he editors, it also helps people understand how to bring about "market-based poverty reduction through the principle of self-help. To that end, this book provides a straightforward, inspiring, and accessible guide."