From 2002 to 2007 black-owned businesses enjoyed a great leap in growth. Then for too many years progress slowed. The economy hurt everyone and black-owned businesses in hard hit cities like Detroit, Houston, Chicago and New York City suffered more than many. But as of 2015 things have changed. While minorities still find it harder to get funding for their businesses there are a number of bright spots and resources available.
This is a great time for black and other minority business start-ups given the abundance of resources being aimed at this group. It is in fact possible in today's economy to find Resources For Black-Owned Businesses And black women are racking up exciting successes – more detail follows!
Help is available – through funding, counseling, assistance with federal contracts, and tips and encouragement from other black entrepreneurs. It's exciting to know that more and more businesses, private organizations, and government agencies offer resources to empower black and minority-owned businesses. And there are more and more role models to provide examples and inspiration. See our story below about a black business CEO in Silicon Valley — and news about black women entrepreneurs success stories.
Search Topics
Discover your program today!
Black Business News Highlights
Update June 2019 Could the Small Business Administration – and even the Minority Business Development Agency – go away after the 2020 elections? It's possible, Depending on who wins. The good news is that everyone is pro-minority business and entrepreneurship, so some promising new programs could appear. In the meantime it's a great time right now to take advantage of the programs, training, resources and connections you can get – for free – simply by contacting the SBA and/or the MBDA to get your own business up and running and/or growing!
Update May 2018
The US Black Chambers of Commerce has done a lot to help black business entrepreneurs and business owners to be successful. This July (2018) they will host their annual USBC National Conference in Oxon Hill, Maryland. The conference isn't free but will be a great place to learn, to network and to get your business — or even business idea — highlighted to many who care about your success. Much of the conference is focused on education and a big heap of inspiration from other black business leaders and success stories. Get more information by checking out the USBC website.
Update November 2017 Need some more inspiration? Check out a recent article in blackenterprise.com. It tells the story of a woman who lost a job she loved. Instead of moping about it – after a year of job searching – she took the initiative and moved to Memphis, got involved with a local organization for urban young professionals. She went further and interviewed black restaurants to come up with a way to promote them to the whole city. She ended up starting Black Restaurant Week – and she made $80,000 (profits!) for the businesses involved in just one week. Not bad! So never give up, and remember sometimes you need to create the job!
Update May 2017 One promising trend in the U.S. is the impact of African American Chambers of Commerce. According to a recent blog, U.S. Black Chambers Inc. is providing support to these Chambers of Commerce and offering training services at its School of Chamber and Business Management. According to the author the proliferation of African American Chambers of Commerce will do much to close the economic gap that plagues Black America. They can help owners of small businesses locally and ensure their access to capital and so much more. The author was also happy to note that African American women who own businesses comprise one of the fasting growing categories in the United States.
Update January 2017
The Wall Street Journal reports that blacks are behind whites and other minority groups when it comes to business ownership. However, the good news is that the gap appears to growing smaller ever since the recession. In 2014 black-owned companies represented just over 2 % of all those firms with one or more employees. But those were notably new firms — almost half started within the past five years. A newer survey shows that blacks owned more than 3% of businesses which had been created within the past two years. With expectations high for a greatly improved business environment we expect those numbers to continue to rise.
News June 2016 The Minority Business Development Agency (MBDA) has announced the current Entrepreneur of the Month. Elliot Park is a second generation entrepreneur and attributes much of his success to his father. He also gives credit to the MBDA for helping him to form relationships with other businesses as well as with other countries that are potential customers for his products. Get some inspiration from Park and earn more about what the MBDA could mean to you.
News August 2015 A mid-2015 report sponsored by American Express finds that black women are the "fastest growing group of entrepreneurs" in the United States. Growth is driven in part by the discrimination black women face in the marketplace – it's a positive response to invest in yourself and start your own business. The highest concentration of their businesses is in Georgia, Illinois and Maryland. But there is something special happening in Detroit, where the non-profit Build Institute is helping black women to learn how to become successful business owners. While their students are not limited to women, women comprise 70% of the graduates. The success rate of all graduates testifies to the fact that with training and support, everyone has the chance to create a productive life for themselves and others.
Best Cities for Minority Business Success A new report from the U.S. Minority Business Development Agency judges the best places now for minorities to start a business. Their findings show that minority businesses are the dominant force in small businesses today. Since 2007 over 2.2 million nonwhites in the U.S. have started businesses. And the growth in minority businesses between 2007 and 2012 was 38% – more than three times the growth rate of the minority population. MBDA's report of the top places for minorities to start a business today comes from a study done by Nerdwallet. It considered things like the general climate for business, availability of capital like small business loans, and the strength of the local economy. The metro areas ranked the top ten are: (1) San Jose/Sunnyvale/Santa Clara CA; (2) Fayetteville/Springdale/Rogers AR-MO; (3) Cedar Rapids IA; (4) Sattle/Tacoma/Bellevue WA; (5) Madison WI; (6) San Francisco/Oakland/Hayward ; (7) Santa Rosa CA; (8) Ogden/Clearfield UT; (9) Salt Lake City UT; and (10) Austn/Round Rock TX.
Best Locations for Black Business Success Another take on minority business success investigates the best cities specifically for black businesses. That study analyzed 111 cities with populations over 100,000 to see where black entrepreneurs have been most successful. They judged cities based on the strength of their economic environments, the percent of small businesses with employees that are owned by blacks, and the average revenue brought in each year by black owned businesses. Fascinating stuff: though Salt Lake City was not in the top 10, black businesses there earn 5 times the national average! In 7 of the top 10 cities over 20% of small businesses are owned by blacks, and Buffalo, NY has the highest percent of black-owned businesses: 12% vs. 6.5% (for cities that have at least 1000 black-owned businesses).
Trying to decide where best to open your business? If possible, you might want to choose one of these areas, listed according to their rank in the city: (1) Columbus, GA; (2) Montgomery, AL; (3) Atlanta, GA; (4) Memphis, TN; (5) Washington-Arlington-Alexandria, VA; (6) Fayetteville, NC; (7) Durham, NC; (8) Jackson, MS; (9) Savannah, GA; and (10) Baltimore-Towson, MD.
Women's Success Did you know that the fastest growing segments of entrepreneurs in the U.S. are African American and Hispanic women? During the 10 year period from 1997 to 2007 they both grew more than 100%. And they represent over $14 billion in business revenue. They also start new businesses three to five times faster than white women. Unfortunately though all this does not mean that they have any better access to the capital and social connections required for business success. Women of color can increase their ability to overcome these differences by joining local women's organizations like associations, trade groups and other collectives. Check to see if there is a women's chamber of commerce in your area and join it. It can be an important source of support, leads and networking.
Role Models USA Today recently ran an article on Tristan Walker, founder and CEO of Walker & Company Brands. He has made a big impression on Silicon Valley. He did it by getting a great education, working hard, getting more education, and turning a good idea into a good business. His motivation, persistence and hustle are impressive and his story will inspire you. His company produces and sells products aimed at people of color – a market that has foolishly been ignored by others. He has overcome the bias of those who fund new businesses and was able to raise $9.3 million from top Silicon Valley investors. Walker & Company Brands has big plans for new products and is worth looking into. His idea for a product is a great example of the recommendations in Small Business Ideas!
Crowdfunding:
A new Crowdfunding platform is being created strictly for "projects and ideas that have a positive impact on the minority community." Blackstartup.com aims to help close what they call the "black entrepreneurial gap" – the fact that blacks start new businesses at a higher rate than others but are behind in terms of keeping a successful business operating. Often lack of capital is a chief cause, so this group is reaching out to provide a place where capital can be raised. They also offer support and other opportunities. It appears that they have not yet launched this crowdfunding platform — check back often and we will alert you when this has happened!
Traditional Funding & Special Programs
The Small Business Administration has always been a wise first stop when looking for support for new or existing small businesses. Now they have partnered with the Black Chamber of Commerce to increase awareness and involvement of black-owned businesses in programs designed to help them get started and thrive. These programs cover topics like getting loans, participating in government contracts, and receiving advice and training from SBA's SCORE consultants. NEWS: In addition, the SBA has made some great advances over the past year. The head of the SBA wants a truly color-blind and gender neutral agency, and she has succeeded in the past year in increasing the amount of loans made to "underserved" entrepreneurs. One of the greatest leaps has been made in loan volume to African Americans, which is up 33%. The SBA really has got your back – discover more tips about using the SBA's services in our article about the Small Business Administration.
The Minority Business Development Agency is also a great resource, with programs and training specially designed to support minority owned businesses.
Banks have not been an easy source of funds since the downturn in the economy, but bank loans are still available and at least two major banks have developed programs aimed at African-American and other minority-owned business enterprises. To learn more check out the Bank of America's Minority and Women Pre-qualification Program. Loans are guaranteed by the Small Business Administration. Also take a look at loans available through Wells Fargo's African American Business Services.
Crowdfunding, a promising alternative option to banks, now may offer special opportunities for blacks trying to fund a business or other project. Learn more about crowdfunding- also known as microfinancing - first and then check out a site called blackstartup.com.
More Small Business Financing Alternatives are reviewed in Small Business Loans. Read it to discover more about some very creative new options to get the money you need for your business — without a bank!
Targeted Government Agencies
The Minority Business Development Agency is part of the U.S. Department of Commerce. Beyond the SBA, it is the number one agency to go to for support and resources for minority-owned businesses. The agency has Business Centers across the country organized in five major regions: Atlanta, Chicago, Dallas, New York City and San Francisco. Through their centers they offer a variety of critical services including obtaining and managing financing, winning contracts,identifying markets, implementing sound business practices, and developing a winning strategy.
Targeted Business Programs
Sam's Club has teamed with Superior Financial Group to facilitate lending to small businesses. The program is designed specifically for minorities, women and veterans, all of whom are considered "underserved" borrowers. Borrowers can apply for loans of $5,000-25,000, backed by the SBA. A one page online application lets you know if you qualify.
Miller Lite Tap the Future There are special grants awarded by private companies to minority owned businesses. One such grant is the MillerCoors Urban Entrepreneur Series, now known as the Miller Lite Tap the Future Business Plan Competition. Those who wish to apply submit their business plan. They are then eligible to win a business grant of $50,000 — and could even become a MillerCoors supplier. You have to be at least 21 years old to enter, be a legal U.S. resident, and not have won one of these grants before. The contest is completed for 2016 but you can find out more and get ready to enter in 2017, usually in April. Check it out and take the time to get your business plan ready! Find out about rules and eligibility at mapthefuture.com/rules.
American Express has made a major effort to assist small businesses through their OPEN Forum online community. In particular they have been working to assist African-American business owners to identify, apply for and win government contracts more quickly, reportedly with some significant success.
Empowering Books and Organizations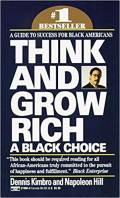 Think and Grow Rich: A Black Choice is an empowering book by Dennis Kimbro and Napoleon Hill. It is based on Hill's classic book Think and Grow Rich that has helped thousands of people create wealth in their lives. This version is specially written for the black community, addressing challenges that others do not have to face. Reading it has changed the lives of many. Inexpensive and easily accessible, it is definitely worth taking a look at!
Black Enterprise provides an abundance of information, inspiration and direct support to African American entrepreneurs. Check out their Small Business University for training, encouragement and the chance to win prizes. Click the site's Small Business tab and read some great articles including tips from the Shark Tank's Daymond John.

Black Women Enterprises tailors its advice, support and training to black women business owners.
The National Minority Business Council is a non-profit corporation that has been around since 1972. They are dedicated to training and supporting women- and minority-owned businesses and have an impressive team of leaders who have been there, done that and can help show you the way to succeed.
The Minority Business Roundtable Venture Capital Fund specializes in funding minority start-ups. Members of the organization get special assistance with financing and winning government contracts, among other services.
Grants For Business is our article that, though not focused on any particular group, will give you a great start understanding and finding resources to finance or grow your business.